Future Meets Home
More than just an arena, Fiserv Forum is the central hub for recreation in Milwaukee, connecting communities, neighborhoods, and generations. With modern elements such as its open concourse design and various components authentic to the city's culture, the venue was designed to reflect the heritage and personality of Milwaukee while actively projecting progress and a renewed sense of community.
Fiserv Forum received the 2019 Best in Sports and Entertainment award from ENR Midwest Best Projects. This best-in-class, 714,000 sf arena is re-energizing downtown Milwaukee and is the entertainment destination for fans all over the Midwest. 
The Experience
Featuring an active plaza space designed for year-round community use outside, and sweeping views both into the bowl and out to the city throughout the interior, Fiserv Forum is redefining world class fan experience and highlighting the communal nature of attending live entertainment.
World-Class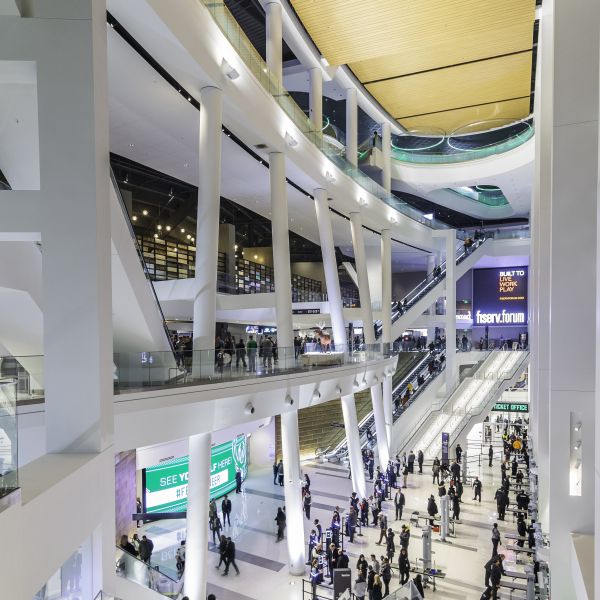 Evolution of Fiserv Forum
April 16, 2014
Marc Lasry and Wes Edens buy the Milwaukee Bucks. The deal includes provisions for construction of a new downtown arena.
March 2015
Milwaukee Bucks ownership hires CAA ICON as Owner's Representative for the new arena.
September 22, 2015
Milwaukee City Council votes 12-3 to approve the plan for the new arena with a $250 million public funding package.
June 18, 2016
Official groundbreaking of Fiserv Forum during the 2nd annual Bucks Block Party.
Aug 26, 2018
Fiserv Forum opens its doors on August 26, 2018 and holds its first event, The Killers concert, on September 4. Click here to see a time-lapse video of the construction of the arena, from plot of land to completion.
September 2018
Demolition began on the Bucks former arena, the Bradley Center, at the end of September 2018.
April 22, 2019
Fiserv Forum was awarded a LEED Silver Certification from the U.S. Green Building Council on Earth Day. Milwaukee's world-class arena received an A+ rating and is the first sports and entertainment venue in Wisconsin to earn LEED Silver Certification. 
Commitment to Diversity and Inclusion
The team surpassed the Inclusion Requirements goal for Professional Services at a rate of 22%, surpassed the Construction Inclusion goal at a rate of 37%, and eclipsed the Residents Preference Program Inclusion rate goal at a rate of 42%. In all, more than $103.6 million was spent with certified Disadvantaged Business Enterprise, Small Business Enterprise, and Small Disadvantaged Business entities. In addition, more than 85% of the materials and products procured for the arena came from within Wisconsin.
Services Provided
CAA ICON served as the Owner's Representative for the Milwaukee Bucks to oversee the development of Fiserv Forum, which was completed in September 2018. The following Project Management services were implemented for this project: 
Activate
Plan and Organize
Program and Strategize
Design and Pre-Construct
Construct
Complete