The New Standard
The 18,641-seat multipurpose venue is the centerpiece of a downtown revitalization project known as ICE District. Among its many significant features are a lower bowl of over 9,000 seats, terrific sight lines, wide concourses, leading food and beverage offerings, and the latest in technology. The arena is the first LEED Silver-certified NHL Facility in Canada and features the largest centre-hung high-definition arena scoreboard in the NHL.
Built for Fans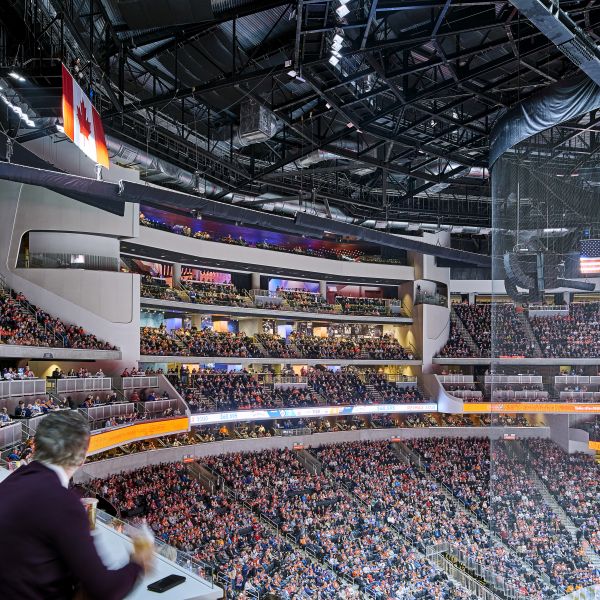 The fan-friendly arena features a loge level, two tiers of table seating between the upper and lower decks for 800 fans with access to an open concourse that has free-standing bars and food service locations. The project also includes a 1,000-seat community rink attached to the arena and a large 25,000 sf grand atrium, Ford Hall, which serves as a gathering place as well as an event space to host stand-alone events throughout the year.
Services Provided
CAA ICON was hired in 2010 to provide Feasibility and Planning services and created a Project Development Plan that ultimately was used a part of the negotiations to reach a deal with the City of Edmonton for a new arena. Once a deal was reached, CAA ICON provided the full scope of services for Project Management: 
Activate
Plan and Organize
Program and Strategize
Design and Pre-Construct
Construct
Complete
2010
Timeline
CAA ICON was hired by Katz Group to develop a Preliminary Development Plan (PDP) for a new downtown arena. The PDP was complete by May 2010.
 
Katz Group made a formal presentation to City Council in July 2010.
2011
Timeline
CAA ICON managed a formal architectural RFQ and RFP process, and 360 Architects was chosen in January 2011.
 
City Council and Katz Group agree on agreement framework in May 2011.
 
Updated and revised PDP is complete and presented to Katz Group and Council approves revised framework for arena, moving forward with the design in October 2011.
2012-2013
Timeline
City Council approves schematic design in July 2012.
 
City Council approves final framework for arena and related public infrastructure. Also approves one of three design options.
 
GMP Documents complete by November 2013.
2014
Timeline
Guaranteed Maximum Price (GMP) is accepted and complete by February 2014.
 
Construction begins in March 2014.
2016 - Opening
Timeline
The Grand Opening for Rogers Place was held on September 8, 2016. The Oilers Entertainment Group call it "the most advanced sports and entertainment venue in North America."