Beacon in the Bay
Chase Center, the state-of-the-art sports and entertainment complex in San Francisco's Mission Bay neighborhood, is the first privately financed arena on private land in the modern era being host to nearly 200 events a year including Warriors basketball, concerts, family shows, and more. The 18,000-plus seat arena anchors 11 acres of restaurants, cafes, offices, publicly accessible plazas, and other amenities that the neighborhood formerly lacked and triggered the development of a 5.5-acre public park on the waterfront.
Chase Center, which officially opened its doors on September 3, 2019, will be a beacon in the Bay Area for future growth and development. Watch the timelapse video to get a behind-the-scenes look at the entire journey of this ground-breaking venue.
Services Provided
CAA ICON was engaged as the Owner's Representative for the Golden State Warriors to oversee the development of Chase Center, which opened on schedule prior to the start of the 2019-20 NBA Season. Along with the Feasibility and Planning services provided earlier in development to the City of San Francisco, the team implemented the following Project Management services for the arena: 
Design and Pre-Construct
Construct
Complete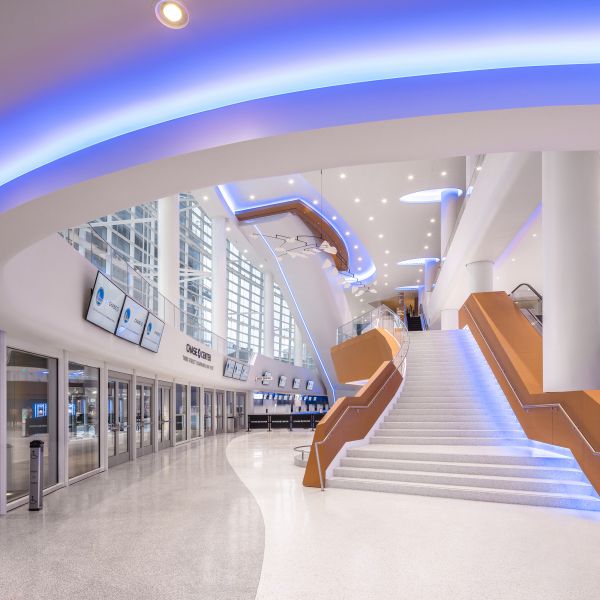 Cross-Agency Collaboration
In addition to the services CAA ICON provided to the Golden State Warriors, the CAA Sports Property Sales division was hired by the team to solicit and negotiate a naming rights deal for its new arena as well as sell all of its high-value sponsorship inventory. To date, they have brought in the five following founding sponsorship partners: Accenture, Hewlett Packard Enterprises, Pepsi, RingCentral, and United Airlines.
The search for a naming rights partner led CAA Sports Property Sales to JP Morgan Chase, a client of CAA's Brand Consulting group. JP Morgan Chase was looking for an expanded presence in the San Francisco Bay Area and, over the course of negotiations, the two CAA Sports brands solidified a landmark 20-year deal to name the arena Chase Center.